FIRE!
October 6th, 2016 | Bodega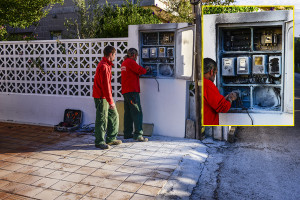 Today did not start as expected. We arrived at the front door of the bodega to find our electrical junction box on fire! (Fortunately it is located on a wall outside the building). If you can use the word lucky in these circumstances, it seems that the fire had started only minutes before, and so we were able to quickly grab an extinguisher (the powder in the photo), and kill the flames within minutes.
Of course, with the junction box virtually destroyed, there was no power at all in the building. Pretty much a disaster at harvest time, when we rely on refrigeration to keep our tanks cool during fermentation. Having no light, computers, telephones etc., was of secondary importance at this critical moment of the wine making process.
Thankfully we have very reliable electrical contractors, and within 30 minutes of the fire they were already on site. Within an hour or so, we had all the replacement parts, and by 12.30 (three and a half hours after the initial disaster), power was restored… Very, very impressive in the circumstances.
As soon as the power came back on, we quite naturally, rushed to look at the tank thermostats. Fantastic! The temperatures had only increased by 0.2 or 0.3°C, almost nothing at all, and certainly not enough to do any damage to our fermenting wines.
I guess this serves me right for claiming that it had been an uneventful campaign!