Dr House? Or should that be Dr Bodega?
September 27th, 2016 | Bodega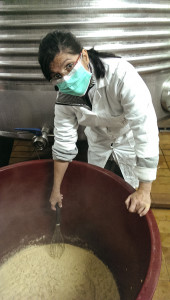 Finally, all of our fermentations are under way – it always appears to be such a long drawn-out process, but at least everything is looking really good as far as quality is concerned (fingers crossed). Having said that, we are still a very long way from the end of the wine making operation, there are still another good three or four weeks of work to do.
As I think I mentioned before, at various stages during the fermentation we have to make additions to the tanks, and once added these products require a thorough mixing, or 'pumping over' as we call it. This pumping over process can take hours depending on the size of the tank.
The other notable thing about these tank additions are the products themselves (by the way, none of them are cheap!). At least two or three of them come in the form of a very fine powder, and have to be mixed with grape must before they can be added to the tanks. We do all the mixing by hand (as you can see in today's picture), and initially, regardless of how much care we take, there is always a cloud of fine, almost choking dust. So the protective masks that we wear are not intended to make us look more like doctors, but are, in fact, worn for a very practical reason.