Harvest 2016 – Day 2
September 17th, 2016 | Bodega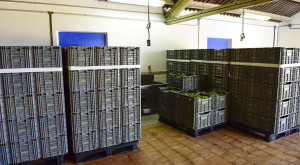 As appears to be the norm at this time of year, the weather forecasts are quite often meaningless, and change on an hourly basis. Most of the time we have to fly by the seat of our pants, and simply use our best judgement. For example, Friday's forecast was for bright sunny weather and warmer temperatures, whereas in reality the day started quite overcast, and not as warm as predicted. The good news was that it wasn't raining!
Our picking team moved out again in force, and having completed our Castrelo vineyard they moved on to Cunchidos, one of our smaller plots at only one hectare in area. Cunchidos was finished in no time, with some super ripe and well balanced grapes. This year our grape collection is actually more efficient, as we have perfectly healthy fruit there is no requirement for sorting in the vineyard.
By afternoon the predicted weather finally arrived, sunshine and temperatures in the low 20's C (around 70°F). Fruit entered at a controlled pace, and most importantly the first detailed analysis from the laboratory indicated that we have some excellent potential this year.
At the end of the day it appeared that we had been much more efficient than we thought, and picked around 8,000 kilos more than we had estimated for the day. Unfortunately, more work for our late night crew.