Harvest 2016 – Day 1
September 13th, 2016 | Bodega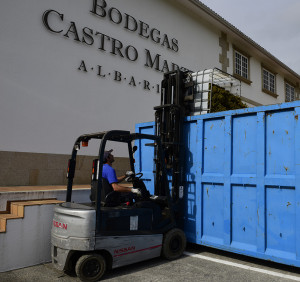 As I mentioned yesterday, after a long, dry, hot sunny period, our more familiar harvest weather arrived in the region. Cooler, grey and overcast – no rain to date, but with showers forecast for the next two days. A few light showers would not be a problem, but the conditions that we really don't need are prolonged periods of heavy rain.
This year we organised have more people to harvest and more vehicles to collect grapes, and so consequently, by mid-morning, we were already loading the first presses. This continuous flow simply never stopped, with grapes entering at a furious rate, but more importantly, of high quality fruit. Healthy grapes with a good degree (potential alcohol) and just the correct balance of acidity. The juice was thick and concentrated as we had anticipated, but as far as yields are concerned we have yet to make a definitive calculation – having said that it will as though it could be reduced owing to the lack of rainfall over the summer.
OK, so the secret of Big Blue, as you can see from today's photo is quite simple. Instead of using hundreds of small containers to collect the bagazo  (grape skins and stalks – or 'marc' as it is known in France), we are using much bigger containers in conjunction with a special tipping forklift. Our bagazo, as you will know, is collected for our local distillery to be made into aguardiente (eau-de-vie or grappa).
At the end of the day, we had picked some serious volumes, the only downside being that as we closed our doors for the night, so the heavens opened. Heavy rain had arrived, including a bit of thunder and lightning – Let's see what tomorrow brings.