Harvest 2016 – Welcome Big Blue
September 12th, 2016 | Bodega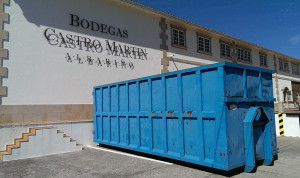 It's funny really, how, after months of knowing about it, the harvest can very suddenly sneak up on you! Until a week or so ago we were all quite relaxed, and planning a start date of around 19th September – unfortunately our fruit did not receive the memo, and the final maturity arrived much more quickly than we had calculated. I guess that with all the hot sunshine that we have been experiencing over the last few weeks we really shouldn't be so surprised, but suffice to say, it did rather accelerate things.
The truth is that today, 12th September (which will now be our first day of picking), I should have been climbing onto a New York bound jet, for a big tasting and a press lunch. Clearly, in the circumstances, that idea had to be scrapped at the last minute, and Angela's New York shopping list (that she never forgets to pack for me) confined to the trash.
And so, after all the month's of hot dry weather, it has all changed for the start of the harvest. Today is grey and overcast, and the early morning temperature is only around 16°C (61°F) – however, it should brighten up a bit before the showers arrive tomorrow. Believe it or not, a little light rain should not hurt – not to swell the fruit, which would be bad, but actually to wash it. After such long dry periods, grapes are extremely dusty, and consequently produce a darker must – this is removed by cold settling, but even so, cleaner fruit is not such a bad thing.
Today's photo (taken on Friday, when it was sunny) shows the arrival of Big Blue – a huge blue container now camping out in our car park. I will explain in my Day 1 Harvest post why we need him. As this comment implies, I will, as always, be making a daily post of our progress, so watch this space!