A long, hot summer….so far
August 22nd, 2016 | Vineyards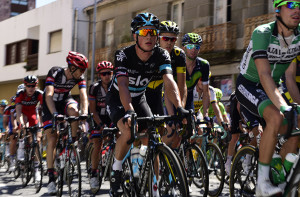 The summer months are usually occupied with controlling he canopy in the vineyards. In case you don't understand the expression 'canopy management', the very simplified explanation is that we trim the vines, cut back some of the leading shoots, remove leaves, and if necessary, remove some bunches (green harvesting). If allowed to grow, the leading shoot of each vine will grow unabated, producing more leaves (not bunches), and simply draining energy from the plant. By trimming them this simply re-directs more energy to the fruit, and therefore should help increase sugar levels. Removing leaves is, believe it or not, slightly more complicated – it is super important to remove the right leaves, in the right places and in the right quantities. Obviously the objective of this 'thinning' is to give fruit a better exposure by allowing more light to pass through the canopy. The only danger is that if too many leaves are removed, then during a hot summer, over exposure can actually 'cook' the fruit (even when using factor 50 – sorry, that is just my warped sense of humour). Also, if during prolonged periods of excessive heat too few leaves will only add to the stress on the plant.
The reason I mention this is that since the middle of June the weather in Rias Baixas has been very hot and almost completely dry. For more than two months our average daily temperatures have remained in the mid-to-high 20's C (mid 70's to mid 80's F). During July we regularly experienced daytime temperatures of 30°C (86°F) and sometimes even higher. As far as rainfall is concerned, there has been very little. July, only a couple of cloudy days and one day of drizzle – August, one day of drizzle, and only one other wet morning.
It's still a little early to know how this extended hot weather will effect the vintage, in all honesty, an odd day of rain at this stage, wouldn't hurt too much.
(By the way, it's obvious that my photo today has nothing to do with vines, or the weather for that matter, except to say that the Vuelta a España passed through Galicia today – in 31°C of heat!)