Fiesta time!
August 5th, 2016 | Fiestas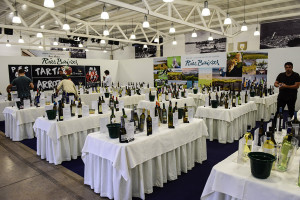 It's already that time of year again, as we celebrate the LXIV (64th I think) Annual Albariño Festival in our local town of Cambados. If you have read my posts over recent years you will probably know that I am not a great fan of the Festival itself, most especially in the evenings, when it tends to get a little boisterous (and that is being VERY polite). Great if your in your 20's and want to test your drinking capacity, but certainly not what you would describe as a tasting. It's just a party, or as some might prefer, celebration.
If you're a serious professional and want to actually taste (or even just a consumer interested in knowing more and comparing wines), then the place for you is the Tunnel of Wine. Not so much a tunnel, but actually just tables laid out with the wines where you can taste as little or as much as you want, at your own pace. Held in the Salón José Peña in Cambados, it is open for the duration of the Festival, for a couple of hours in the morning and then a couple of hours each evening.
I know I probably say this every year, but for me at least, it is the best opportunity of the year to taste the vast majority of albariños of the vintage under one roof. Yesterday I tackled the first half of the room, about 70 odd wines in two hours, and today I will go back to finish the rest. Of course, the secret (as with all serious tastings), is to make copious notes of each individual wine, and secondly to spit! You might think that spitting is an obvious thing, but I can tell you that yesterday, in a room full of people, I don't think I actually saw one other person spitting…. Enough said.
Spitting and making notes does however, attract attention, the result being that I was interviewed by one of our local papers, asking my opinion. They quoted me perfectly in this respect, that it is simply the best albariño tasting of the year.