A life at sea
August 1st, 2016 | Business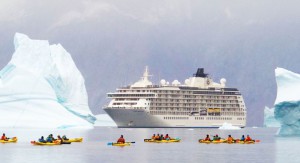 Castro Martin already proudly sells wine to cruise ships, including the famous Cunard 'Queens', and the new P&O flagship Britannia. In addition to this our wines are now sailing on board a completely unique type of 'cruise' ship – The World – a Residence at Sea.
To explain this format in simple terms 'The World', at 644ft, is the largest private residential ship on the planet, providing floating luxury accommodation for those who can afford it (and want it). Guests, or should I say residents, of this huge floating home simply spend their whole time sailing around the world, again, and again, and again! The accommodation for each resident is not so much a cabin, but is actually a self contained apartment , with pretty much all the amenities of home – except perhaps the underground parking.
As you might imagine, the ship is loaded from top to bottom with different forms of entertainment – fitness, yoga, swimming, diving, kayaks, golf (the water hazards are quite impressive), and even a full-sized tennis court. Apart from numerous bars and restaurants it also caters for a wide multitude of hobbies (including wine tasting), boasts a cinema and theatre, and also has it's own library. I am sure that this lifestyle will appeal to some, if not many, enjoying a different view from your window every day, but I'm afraid to admit that it certainly wouldn't work for me.
On the plus side they do stock a great albariño!