Fire in the finca!
July 1st, 2016 | Local News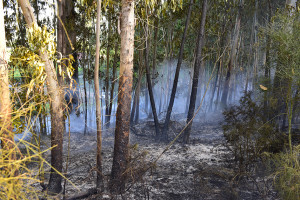 Last weekend we had a small but dramatic event in our village, but more significantly, almost in our bodega vineyard…. a brush fire! A week or two ago I wrote about a small area of forest clearance at the back of our bodega, restoring our view of the Atlantic Ocean after some years of being masked by trees. Well, the bad news is that a different area of eucalyptus forest immediately adjacent to this (forming a boundary with our vineyard) was left untouched. Under Spanish law it is the responsibility of every land owner to keep undergrowth in a forested area well trimmed and under control, precisely for the reason of reducing fire risk. Unfortunately, in the case of this forest, it had not been done.
In the early hours of the Monday morning we received a call from our neighbours, living next to the bodega, to say that firefighters wanted access to the back of our property – the forest was alight! The good news is that the blaze was bought under control quite quickly before it managed to really take hold, and in the end was more or less confined to the undergrowth. Had the trees themselves gone up in flames, then it is actually quite possible that it would have spread to our vineyard, and so we have to be quite thankful to our local fire fighters for their prompt and effective actions.
If the fire taken place later in the summer then it is possible that our fruit could have been tainted by the smoke, but I think that this fire took place early enough in the growth cycle to have very little or no effect whatsoever. I once recall tasting a wine which had become tainted by smoke and I can tell you that it is nothing like the toasted oak effect that comes from a barrel, it is simply quite unpleasant. I am happy to report that, in our case, the only temporary damage might be to my t-shirt that reeks of smoke after I ventured into to the forest to take a few photos!