Spring weather – a lucky break
June 13th, 2016 | Vineyards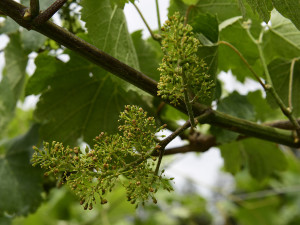 I am aware that I am always preaching on about the vagaries of our Ocean affected climate, but so far, 2016 has been more unpredictable than ever. After a fairly dry autumn, 2016 started with incessant rain, and this stormy, wet weather continued well into the month of February. The early part of spring saw very little in the way of dry, sunny weather, but one of the most notable features of the first trimester was the widely varying temperatures. It was not uncommon to see temperature swings of 8-10°C (12-15°F) from one day to the next.
By early May things had not really improved, and as the flowering period approached, our anxiety started to grow. With the cool, wet weather continuing and temperatures barely reaching the low 20°C mark (68°F), this could spell potential disaster for the 2016 vintage. As we reached the middle of the month, something of a minor miracle occured – it stopped raining and the sun came out. There was a marked change, and for the first time it felt like summer was finally on our doorstep – people even started to appear on our local beaches! By now, with the temperatures touching the mid-20's (75-77°F), the vineyards really started to react. By the beginning of June flowering was already under way, and despite an odd light shower, the conditions were generally favourable. It looked very much like we had been saved!
Of course, flowering only represents the first significant hurdle in our growing cycle, and we have little idea what the rest of the summer will bring, but at least now we can be a little more optimistic that our vines will at least yield a reasonable crop.
Once again (as in previous years), I apologise for today's photo that shows the flowering, but only on the basis that there is not really very much to see. The truth is that I was just testing my new camera, although I had to reduce the resolution of this shot considerably before I could post it (for any photo geeks the original RAW file of this picture, shot at 36 megapixels, was over 40MB).