Wednesday? It must be Los Angeles
April 23rd, 2016 | Travel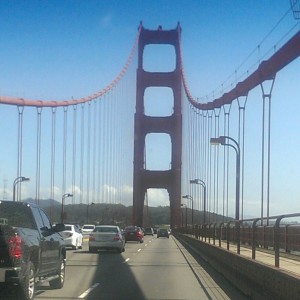 It's one thing taking the time and effort to make a great albariño, but it's another thing entirely to get out on the road and sell it. I can also tell you that, as a former wine buyer, it's a good deal easier to buy wine that it is to find new customers!
For the last ten days Angela have been on a whistle stop tour of the United States, taking in New York, Los Angeles, San Francisco and Seattle. Of course this all sounds very romantic, a great holiday some might say, but I can tell you, hand on heart, that our schedule has been relentless, taking late night flights in order to be in the next city ready to start working the following morning. There were moments when I really couldn't remember what day of the week it was (or maybe that's just old age!).
Anyway, the upside is that restaurants, shops and American consumers appear to really like our wine, confirmed by many new orders and some great new listings. The trip included several presentations to the sales team of our importer in New York, and their teams in North and South of California – as I always say these sessions are worth their weight in gold, as we spread the word not only about albariño in general, but more importantly the history and wines of our own Family Estate, Castro Martin.
The highlight of our trip was definitely the beach locations – Laguna beach and Venice beach in Southern California, visiting customers in some great (and very fashionable) restaurant and hotels. Having said that, in the North of California, we also tasted our wines with customers in Sonoma County and the Napa Valley. Selling wine in the very heart of the wine country!