Big is beautiful? Maybe not…
January 18th, 2016 | Food & Wine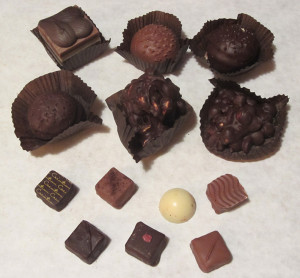 I have lived in Galicia for more than a dozen years now, and one of my big frustrations (as a would-be chef) is the continued lack of variety in the range of fruit and veg on offer. It is very basic to say the least, and is certainly not expanding to include any 'exotics'. When I originally left the UK, one of the big food shopping trends at that time was for 'baby' vegetables – everything was shrinking, albeit not in price! We were told that fruit and veg picked younger and fresher was simply more flavourful, and I think that in most instances, this was very probably true.
I'm afraid to say that here in Galicia, the exact opposite would seem to be the case – the bigger the better appears to be the general rule of thumb. Huge potatoes and carrots that are either 'woody'or have little flavour (also potatoes are almost never sold by variety, and so exactly which ones to chose can be a bit of a lottery).
This obsession with size also seems to spill over into restaurants – Galician portion sizes can be huge. Indeed, I recently read a review on Trip Advisor whereby one consumer, sampling the 'tasting menu' at a local Michelin starred restaurant, complained about portion sizes, and demanded that he should be able to repeat certain courses. Obviously this was refused, and consequently the guy was completely scathing in his review.
Finally hand-made chocolate. At Christmas we were lucky enough to receive a few gifts, including some had-made chocolates. One box was from a well-known producer in Catalunia, Spain, whilst a second box was from a chocolatier in Belgium. Both are shown in today's photo – can you tell which chocolates are Spanish and which are Belgian?