How old is NV?
January 4th, 2016 | Bottles and bottling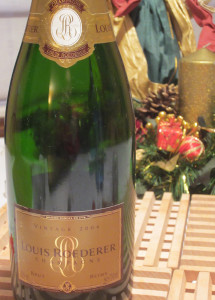 So, how old is Non-Vintage? This might seem like a stupid question, but I do think that in certain circumstances, it can be quite significant. OK, so I have to admit that I am thinking specifically of Champagne when I ask this question, and this is all owing to a bit of a mix up on New Year's Eve.
A few days ago I pulled out a bottle of Louis Roederer Champagne to chill for drinking with our meal. New Year's dinner is, as always, quite a late event here in Spain, the idea being that the meal is finished shortly before the clock strikes midnight.
Just before the meal I popped the cork and poured…. Wow, this was seriously delicious, too delicious in fact – nutty, toasty, digestive biscuit, super complex – all the attributes of a lovely, old Champagne. Oh dear, I should have realised just by looking at the colour of the label. Closer examination revealed that it was actually a vintage 2004, which I didn't even know that I had in my selection!
My point is that I really like old Champagne, and so when I buy a bottle of Non Vintage I rarely drink it immediately, but prefer to put it in the cellar and keep it for a year or so. Of course this is a matter of personal taste, and not all wines will improve with age. It's just a bit of a habit that I have developed over the years.
There is, however, an interesting question that arises from this slightly odd practice. If I buy an NV Champagne from a wine shop in Spain (that might have a slow turnover), then how old is the bottle when I actually buy it? Apart from the Lot Number, which is coded, how do I know how old my bottle is? Perhaps in the case of their NV blends, Champagne houses should consider adding a bottling or disgorgement date to the label, if only to give the consumer (including me), a little more information? Just a thought.