Black Friday 13th
November 27th, 2015 | Odds & Sods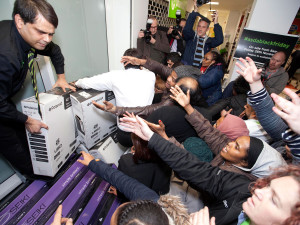 Black Friday is a comparatively new phenomenon in Europe, which is hardly surprising when you consider that we don't celebrate Thanksgiving. I am not altogether sure about the origins of Black Friday but I believe that it was created to celebrate the life of Saint PayPal, the patron saint of shopping (from the High Church of Amazon). His followers now make an annual pilgrimage, the day after Thanksgiving, to their nearest centre of worship, sometimes referred to as a "Mall". Worshippers can be extremely fervent and have been known to become completely overwhelmed by their shopping experience – a true ethereal, frenzied, almost violent experience.
Very thoughtfully, the weak, infirm and overfed (from too much turkey) are also catered for, as it has now been made incredibly easy to 'worship' online.
A couple of weeks ago we had yet another significant Friday in our calendar – Friday 13th. Now, I personally don't suffer from friggatriskaidekaphobia, but there were a couple of coincidences that made me stop and think for a moment. We were planning to bottle of a tank of wine, and one of the dates pencilled in was Friday 13th. Generally, I wouldn't think twice about it, until I realised that we were planning to bottle tank 13, and that the allocated sequential Lot No. for this bottling was also to be 13…… We bottled on 11th instead!