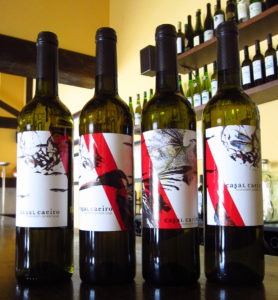 Now there was you thinking that Red Stripe is a brand of beer founded in 1928 and originating from Jamaica. Well, it still is, but now perhaps there is a new version…. Red Stripe Albariño?
Actually not. This is simply a 'gift' from our printer. As you may already know, our new Casal Caeiro label is actually a quadriptych – a four part label, that joins together to form one large picture. However, when it is joined together this is not usually done using a thick red adhesive tape – this is just an anomaly of the printing process. Now I am just guessing here, but I think that when the labels are being printed, and our printer needs to change the paper roll, then they will simply stick the two rolls together using this tape. It certainly makes quite a startling contrast when these bright red stripes suddenly appear during a bottling run. (At least they are not difficult to miss!)
I should say that the four bottles in the photo did not come from one single batch, but have been collected over the several months that we have been using this new label. Maybe we should leave them in the cases and offer a prize to the people that discover them!