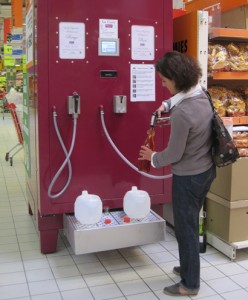 In my former life as a wine buyer I often travelled around the wine regions of southern France, and very occasionally found myself visiting the odd wine co-operative. They nearly always had a shop area where locals could pop in and buy a few bottles of quaffing wine to drink with their meals. (Twenty odd years ago it was inconceivable that a French family would sit down to eat without a bottle of table wine alongside the water bottle on their dining table. In today's France this is perhaps not quite such a common occurrence as the government recommends drinking only "in moderation", with compulsory warnings on every bottle).
In the corner of many of these co-operative wine shops there was often a corner reserved for the pumps. Large hoses protruding from the wall with metal nozzles on the end, looking pretty much the same as petrol pumps. The difference was that they were not delivering your average 98 octane or lead-free…… they were pumping red, white or rosé to pour at your table!
Locals would arrive with large plastic containers or bottles in hand and fill them with their favourite local table wine. Forget the thoughtfully designed labels or fancy shaped bottles, this was wine for quaffing.
So, although this idea has been around for some time now, it is only in the last year or two that it has turned up in the aisles of French supermarkets, and whilst it is not uncommon to top up your car at the supermarket fuel pumps, you can now top up your bottles at the wine pumps too. Now, all you need to remember is to top up your olive oil!