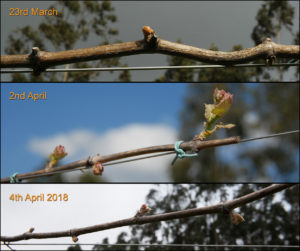 After months of complaining about having no rain, things have been turned on their head, whereby we are now complaining about the continued cold, damp weather.
By way of illustrating how cold it has been I thought that it might be interesting to do a comparison of vine development, to see how one or two different vintages compare. Whilst I have hundreds of photos of vines in my folders, I have carefully sorted through them to find photos taken in the very same location, at more or less the same time of year – a sort of odd 'time lapse' spread over several years! (It's important that this selection was taken in exactly the same location, as different parts of each vineyard will develop at different speeds according to their exposure).
I had already noticed that vine development was slow this year, as it is only now that we are really witnessing the first signs of life – bud break. As you will see from the comparative photos (click on image to enlarge), we are probably about one or two weeks behind where we would normally be at this date. Bud break often happens during that last weeks of March, and generally speaking, by early April we can almost be at the point where some folliage starts to emerge. (The first two photos are from two previous vintages, and the final picture is 2018).
Of course, it is still very early days, and should the weather suddenly warm up then we can soon get back on track. It is not really until the flowering that we can make a true determination of when the harvest might be, but the way things stand it's possible that it could be a late one in 2018. Vamos a ver!