Archive for the 'Wine Fairs' Category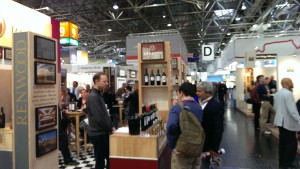 To be honest I don't know where to begin! Angela and I have been away for most of the last week at Prowein in Dusseldorf, to my mind certainly the best wine fair in Europe, if not in the world. It's a very humbling place, and puts a perspective on where we are placed within the world of wine – one tiny grain of sand on a beach. The number of producers and wines on offer was truly mind-boggling, and made me ask myself, when I was a buyer, how did I cope with this? Well, there is a simple answer. Clearly you can't taste everything, and so the very best that you can do is set out with a plan, and make sure that you stick to it (allowing perhaps a little extra time each day to make one or two random discoveries). If you simply arrived at the entrance, not knowing what you were looking for, then you would very quickly be overwhelmed. In any event, wine fairs are tiring, whether you're buying or selling – it's three long days on your feet, not to mention that Dusseldorf is already quite a 'trek' from Galicia (two flights via Madrid, taking more than half a day).
But having to play catch up with a backlog of work from the fair is only half the story – the day before we left for Germany, my computer packed up again, but this time completely…… Nothing… Nada… Rien… I couldn't even open a programme! Of course I had already been experiencing huge problems in the last couple of weeks, but thought that it had largely been resolved, albeit not perfectly. I was wrong, this time it crashed and took my entire Prowein appointment calendar with it! Of course I had a back up, but this is only of use if you have somewhere to re-install it! At least I was able to leave it with the engineers until we returned from our trip, but I still had to wait another 24 hours before it was returned to me. I then spent an entire day re-loading programmes and changing the settings, to at least make it feel like my own computer – fortunately, I believe that all the data files have been retrieved. After this experience now might truly be the time to consider cloud computing.
So now, it is simply a question of catching up and wading through the backlog of mails in my inbox. Heaven help me.
Recent Posts
Monthly Archives