Archive for the 'Uncategorized' Category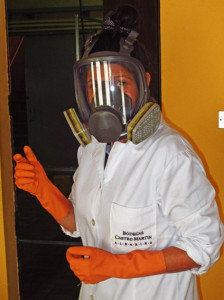 Today's photo is actually a little premature, but as today is Halloween I couldn't resist a little joke at Angela's expense….. The (horror) mask that Angela is wearing is actually a vital piece of safety equipment that we wear each time we are handling sulphur dioxide. The end of the fermentation is the time of year that we add by far the biggest dose of sulphur to our wine. Whilst all the sugar has been consumed and transformed into alcohol, the raw wine is still a bit unstable at this moment. In order to stop any unwanted reactions completely, and to prevent any potential secondary fermentations, we add sulphur to each tank simply to ensure that everything remains completely under control. It serves as an antibiotic and antioxidant protecting our wine from spoilage by bacteria and oxidation.
The pure sulphur dioxide that we use is potentially deadly – even when we use it in a diluted form we still wear a mask – it is quite toxic and can be pretty nasty stuff, but at least when we use it in our wine it's presence is measured in parts per million. SO2 is already present in our atmosphere, released naturally for example, by volcanoes. Both here, and in our wine making, the quantities in evidence are miniscule. 
Anyway, the end of our fermentations are still probably about a week away, but I thought that being Halloween this photo might scare a few people…. it does me! 
Recent Posts
Monthly Archives