Archive for the 'Rias Baixas' Category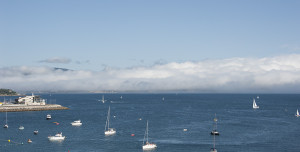 In the guide books of Galicia you might read that the region is more or less divided in two – the Rias Baixas (the lower rivers or estuaries) and the Rias Altas (the higher rivers or estuaries). The regulated wine producing area is located entirely in the Rias Baixas, and quite obviously, is why our denomination assumes that name. The D.O. is then sub-divided into zones, stretching from the Miño river in the south (that forms the border with Portugal), to the Ulla in the North, which is not too far from Santiago de Compostela.
Although the distances from north to south are not that great (we are in the northern zone of Salnés, and yet only about 60km north of the Portuguese border), there is still quite a lot of variation in the styles of wine produced. Generally speaking, the wines from the north are lean, vivacious with a fresh acidity, whereas the southern wines tend to be a bit fatter, softer and have a lower acidity.
The point of my story is however, probably more about microclimate. Our bodega is located close to the Ria de Arousa, near Cambados, whilst our home is just 12km further south on the Ria de Pontevedra (one 'estuary' lower down the coast). When I left our wine cellar yesterday at 4pm to drive home, the shade temperature in front of the building was 32°C (87°F), but as I started my journey I noticed that the thermometer in my car was dropping quite rapidly. By the time I had driven the 12km to my house the temperature had dropped to a refreshing 22°C (71°F) – a difference of 10°C (15°F). And the reason?…. A sea fog. During the day a dense curtain of mist had rolled slowly up the Ria de Pontevedra, shrouding the entire area in a veil of cooling cloud, completely preventing the sun from penetrating until the late afternoon. Not only did this fog create the dramatic difference in temperatures, but it is also the very same fog that occasionally hangs over our vineyards and is said to add a little saline character to our fruit….. You can really taste the sea!
Recent Posts
Monthly Archives