Archive for the 'National News' Category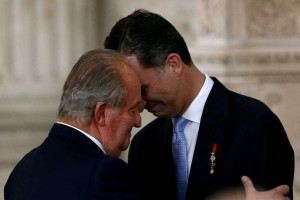 Today will be a day of mixed emotions here in Spain, as they welcome a new King to the throne of Spain, whilst at the same time bidding farewell to their Kings of Football 'La Roja', unceremoniously dumped out of the World Cup by Chile. Perhaps it's a bit disrespectful to mention the new King and a football team in the same sentence, but in the past few years football has become even more of a religion than it was before.
Yesterday in Madrid King Juan Carlos signed his final Act of Parliament, a law approving his abdication in favour of his son who will be crowned King Felipe VI in a low key ceremony today. During times of austerity in Spain it was deemed, quite correctly, to be inappropriate to have a lavish celebration. However, the centre of Madrid has still been decorated with tens of thousands of Spanish flags, and large crowds are expected to line the route between Congress and the Royal Palace to cheer the new King Felipe VI and Queen Letizia, who will then greet the nation from the Royal balcony.
In an even more low key ceremony, the Spanish football team will fly home after their final group game against Australia on Monday. The euphoria of 4 years ago, when they were crowned World Champions, long forgotten.
Recent Posts
Monthly Archives