Archive for the 'Harvest' Category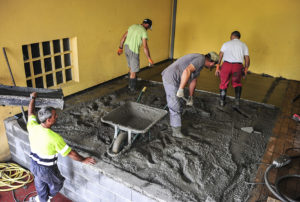 Yesterday was an important day in the work to extend our grape reception – pouring the concrete. Although this might sound like a comparatively easy task, I have to say that I was seriously impressed. Watching a pile of lumpy, wet stones and cement being transformed into a smooth, flat surface is pretty amazing, and I have to tell you that our guys did an excellent job.
Of course, this new floor is not completely flat, but has actually been laid on a very slight incline simply to accommodate better drainage, and it is this requirement that made the whole task just a shade more difficult. I soon discovered that it's all about the preparation – having everything clearly mapped out beforehand, confirming that it's not a job that can simply be carried out 'on the fly'.
The other slight complication was that the truck was just a fraction too tall to enter the building, and the chute delivering the concrete was only just long enough to reach the new floor extension – another couple of feet further away and the whole chore would have been a lot more complicated. Within an hour or two the work was complete, leaving tiling as the only outstanding task before we finish.
Recent Posts
Monthly Archives