Archive for the 'Green Issues' Category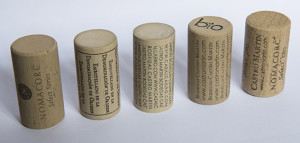 People who know me also know that I am passionate about wine closures. As a wine buyer I could never understand why a producer would go to so much trouble growing superb quality grapes, converting them into the best wine possible, and then cutting corners by trying to save a few cents on the price of a cork. For example, it is rare for the bottle to have a significant effect on the quality of a finished wine, but the cork? That's a whole other story….
In addition to this, I also have a theory that certain types of closure work better with certain types of wine. Of course I could be completely wrong, but at Castro Martin it has been our mission to find the closure that provides the very best protection specific to our own albariño – preserving our wine in exactly the way that we want, whilst providing a consistency of quality to each and every bottle. The only way to do this has been by extensive testing.
After a prolonged period of testing involving a wide range of different closures, extensive tastings, carefully measuring OTR (oxygen transmission rate) and generally following the evolution of our wine from tank to bottle ageing, we were eventually able to make a decision based purely on our findings. The synthetic closure that we finally selected allows only a controlled rate of oxygen transfer and therefore behaves in a much more predictable fashion than natural cork (and that is before we even start to consider TCA – cork taint). The absence of cork taint is really just an added bonus for us when using synthetic.
These days we are using the very latest closure, made from polymers of sugar cane, boasting zero carbon footprint and probably the most Eco-friendly closure on the planet. This latest 'Bio' corc can be seen on the far right of today's picture, and as you can see, is barely distinguishable from a natural cork. My photo shows how our range of closures has evolved over recent years.
Recent Posts
Monthly Archives