Archive for the 'Competitions' Category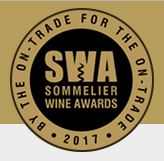 Blimey! It's happened again! It seems that no sooner do I make a comment suggesting that the consumer should pull the cork and make their own wine buying decisions (rather than simply following reviews, medals or points), than we receive another accolade…. In this year's Sommelier Wine Awards in London, we have been awarded a gold medal for our 2015 A2O 'Sobre Lias' Albariño!
The panel of judges is made up of a cross-section of tasters, including sommeliers, buyers, consultants and a handful of MW's. The judges were enamoured with our wine's fresh, sprightly style, awarding it Gold, whilst also commenting: " the acidity is quite perky, and there's a nice spritz on the finish" – " I am reminded of the sea shore – mineral and fresh – but the palate shows honey notes, along with lemon peel. Rich yet fresh, and long-lasting".
Recent Posts
Monthly Archives