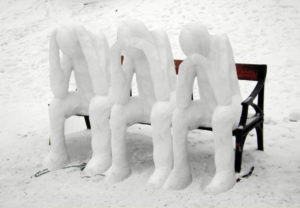 It's January, 2018, and there's not much happening at the moment. Don't get me wrong, we have sent out a few orders, and our guys are busy pruning in the vineyards, but other than that our days are short, dark, and now just a little bit damp too. The Christmas holiday rain has continued into the new year, and there have been a few thunderstorms. The weather has been changing quickly – one moment we have black skies, thunder, lightning and driving rain, but then, within an hour or two, the sky is almost completely clear and the sun is bursting through!
After a protracted holiday period (a common feature of the Spanish calendar) it can be difficult to regain momentum, but there is planning to be done, bottlings to be made, and of course, we mustn't forget that our 2017 wines still need to be tasted regularly. Later in the spring we will decide the best moment for racking – removing the wine from the lees, and finally some of these tanks will be blended before they eventually become the finished article.
Within our D.O. the length of time that an albariño needs to remain on its lees before it can be called 'Sobre Lias' is just a little vague, although the very minimum is usually accepted to be around 3 months. Technically, this would mean that we could rack our tanks now if we wanted, but in the case of every sobre lias wine at Castro Martin, we always leave them resting for a minimum of 6-8 months, but depending on the vintage, some can be left up to a year!
Recent Posts
Monthly Archives