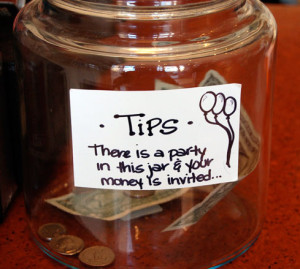 Giving a 'Christmas Box' is a tradition that dates back more than a century. As with normal tipping this 'box' is intended as a way of showing appreciation for work done or services provided during the preceding year. In the UK  we are never really comfortable with the concept of giving gratuities as the lack of any structured tipping system can leave us with a multitude of dilemmas. For example, exactly who should we tip and how much should we give? Meanwhile, in the United States it is not only more commonplace, but it is also more systematic, whereby there is more or less a structure in place for the acceptable rates – food service 15-20%, taxis 15-20%, delivery person 10-15% and so on. Much easier to work out and also helping to eliminate possible anxieties.
But has tipping become an obligation rather than an optional sign of gratitude for a job well done? The question of who we should tip, or possibly whether we should tip at all, is actually perfectly valid. I sometimes wonder, when we are already paying a fortune for our designer coffees, why they would have a tip jar at the checkout – after all, the process is self-service! Has the truth now become that the server or barista is so badly paid that we are merely subsidising their employer – surely better to have all of the service charge integrated into the initial selling price? The other anomaly is of course that not all jobs attract tips….. so why do we tip the taxi driver but not the bus driver? In London a taxi driver will very rarely leave his cab to help you lift your heavy suitcase, so why do we feel obliged to give an additional tip on top of the premium fare that we are already paying? 
Don't get me wrong, I think I am super generous when it come to tipping, and Angela is always telling me off for leaving too much, but I just think that life would be a whole lot less complicated if tipping was just scrapped altogether and people were simply content to receive a salary for their work. My own philosophy has always been 'a fair day's work for a fair day's pay'.
Recent Posts
Monthly Archives