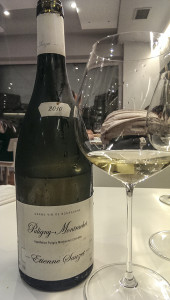 The other day I went out for lunch – not very exciting or unusual I have to admit….. but I went to a 'Vinoteca' in Pontevedra (our local town), and was more than delighted to discover a rather interesting wine list that immediately transported me back to my days as a wine buyer. Of course I have found one or two other places that offer a more varied selection than normal, but in this part of the world the are few and far between, which is why I feel compelled to write about them.
Under normal circumstances, and quite understandably, local restaurant wine lists are usually dominated by local wines (a fact quite common to many a wine producing area around the world). That's fine if you're a visitor and want to sample the local cuisine and accompanying wines, but if you're a resident, it can become a little boring and predictable, and that's why I get just a little excited when I discover something slightly unusual (it doesn't take much these days!).
As I entered the restaurant there was a display of old (empty) bottles, including quite a few Burgundy producers that I knew, who's Domaines I had visited, and who's wines I had bought over the years. Michel Lafarge (Volnay), Etienne Sauzet (Puligny), Alain Michelot (Nuits St Georges), François Raveneau (Chablis), to name but a few. The memories came flooding back, even by just seeing the bottles!
By the time I made my selection, the cork had been pulled, and that first whiff of the bouquet – well, I had been transported to another planet. I had almost forgotten how good a well-made, mature white burgundy could be. As our menus are dominated by fish and seafood I had selected a simple, generic Puligny Montrachet 2010 from one of my favourite producers in the village, Domaine Etienne Sauzet (the others being Jean-Marc Boillot, Paul Pernot and Domaine Carillon). The 2010 vintage was perhaps overshadowed by 2009, but after a difficult flowering, a poor summer and consequently small harvest, the best producers still managed to make some excellent wines. In a classic white Burgundy style they have a firm acidity, are succulent and elegant without being over-concentrated – 2010 was perfectly suited to the style of Puligny (rather than say the slightly richer, fatter wines of Chassagne or Meursault).
I don't even remember the food that I ate because I was so 'lost' in the wine (and a few memories)….
Recent Posts
Monthly Archives