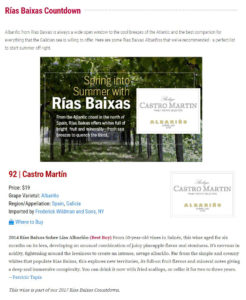 Don't get me wrong, it's always a good feeling to receive a positive review, or perhaps a medal for one of our wines, but to be honest I still find myself in two minds as to their real value. On the one hand it's great to have the endorsement of a third party taster, whereas on the other hand my own philosophy has always been to simply pull the cork and decide for yourself if you like the wine or not. Of course the reason behind my thinking is that the appreciation of wine is completely subjective – personal taste. For example, I know some wines that I think are fantastic, whereas other people that I know just don't like them at all. I have always said that it would be very boring if we all liked the same things, no matter what the product, and that's why the world of wine is so interesting and open to everyone. Having said all that, I do appreciate that in some markets the points do still count!
When it comes to Castro Martin wines, then it goes without saying that I am more than just a little bit biased, after all, I do help to make them. However, on the occasions that we do receive a good score (or perhaps a bit of silverware) it simply serves to reinforce our own belief that we are doing a good job. After all, it's no good making wines that only Angela and myself appreciate.
So the news is that this week we were awarded 92 points (and wines of the month Best Buy) by the Wine and Spirits magazine in the U.S. They said of our Castro Martin Family Estate 'Sobre Lias' – "From 50-year-old vines in Salnés, this wine aged for six months on its lees, developing an unusual combination of juicy pineapple flavor and stoniness. It's nervous in acidity, tightening around the leesiness to create an intense, savage albariño. Far from the simple and creamy whites that populate Rías Baixas, this explores new territories, its full-on fruit flavors and mineral notes giving a deep and immersive complexity. You can drink it now with fried scallops, or cellar it for two to three years."
Say no more!