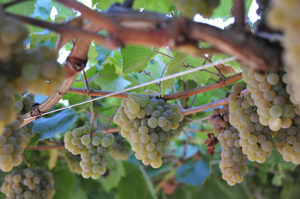 When we opened our shutters this morning, we were just a little shocked. After a beautiful, clear, sunny evening yesterday, the clouds had gathered, and the sky was grey and heavy – almost threatening – and so, what to do? The decision was to cross our fingers, hope for the best and pick grapes.
As it turns out, our gamble paid off. Within a couple of hours the sky was clear, and by lunchtime we were bathed in warm sunshine. By 11am we had already received our first delivery of grapes to the bodega (into our newly revised grape reception), and happily, this flow continued steadily throughout the day. Of course once our press is loaded we get to sample the first grape must of 2017, and make any final adjustments to the presses.
Every year the density of the grape juice varies, and so we often change the time and pressure used for pressing according to the physiology of the berries. Obviously if the juice is thin, as in the vintages with higher rainfall, then we obviously don't want to 'over-press' the fruit and extract too many phenolics (astringency originating from pips and stems). Conversely, in years when there is a lot of sun and the berries are smaller, with thicker skins and very concentrated juice, then we have to strike a fine balance between approaching the best of the must, but without extracting any of the bitterness. Complicated, but calculated.
I have to conclude that our first day passed off very smoothly. No sooner did we empty the press, than we had almost the exact amount of fruit ready to recharge it. Of course, I could claim that it was down to perfect organisation, but I have to admit that it was much more by chance than by precision planning.