Archive for the 'Weather' Category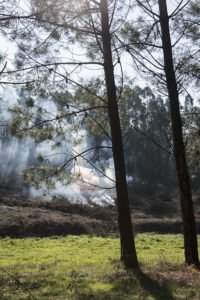 It was only two days ago in my pruning video (made last week but posted on Monday), that I mentioned the beautiful blue skies and perfect ambient temperatures. Unfortunately, that already seems like a distant memory! When you look across Europe this morning, there are places that resemble more the Arctic Circle than they do Springtime in Paris (or Rome for that matter). The 'Beast from the East' (as it has been nicknamed in the UK), has brought chaos and freezing Siberian weather to huge swathes of our Continent. Whilst we don't have any snow here on the coast of Galicia, it is certainly very much colder. Today for example, the sky is a miserable shade of grey (only one, not 50), and it is raining steadily. The air temperature is only about 4 or 5°C (around 40°F), but with high humidity, it is really quite bone chilling.
Meanwhile, our poor guys are still out in the vineyards pruning (obviously now wearing much more protection against the elements), and for the time being at least, all the small bonfires that were burning on the hillsides around the Salnés Valley, have been well and truly extinguished. I keep trying to tell myself that we need the rain, but I am muttering this through gritted teeth, or should I say, chattering teeth.
Recent Posts
Monthly Archives