Archive for the 'Post Harvest' Category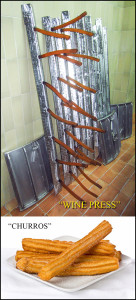 Now that the vendimia is behind us and the fermentations are at an end, we continue with the ongoing task of deep cleaning the wine cellar. There are some areas, including the tank room, that we are pretty much unable to touch until the wines are finished and the tanks firmly closed. (During our fermentations the tanks have to be left open to allow the huge amounts to CO2 generated to escape – supported by a strong air extraction system so that we don't all expire whilst working from a lack of oxygen!)
In the pressing room for example, the presses themselves have been thoroughly cleaned, albeit that they still need to be re-assembled and some of the internal parts fixed back inside.
Today's photo shows some of these pieces – the long rubber 'fingers' extending from the steel parts that you can see, are the pieces that help to break up the grapes and bunches as the machine rotates during pressing (in a similar action to the modern washing machine, as it rotates gently back and forth during the cycle). The long brown fingers of the press are ribbed, and really, really remind me of the very famous Spanish delicacy 'churros', which are traditionally eaten with a thick hot chocolate drink – the churros themselves being used for 'dunking' in the cup!.
I'm afraid that these rubber fingers, even if they were sprinkled with sugar and dipped in chocolate, wouldn't taste quite the same!
Recent Posts
Monthly Archives