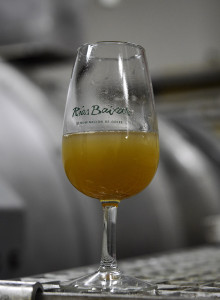 Today should have been harvest Day 2, but instead it is 'Day Suspended'. After long periods of pretty much drought conditions during this summer, we had some persistent overnight rain. (Even Alanis Morissette would probably find that quite ironic!) By 7am the rain had stopped, but the overhead canopies were still quite wet, and not conducive to collecting perfect fruit. Whilst waiting for them to dry out and with a slightly unpredictable forecast for the next 48 hours we decided to hold back. On the other hand, we were anxious to see how this added water had effected the fruit, and closer inspection revealed that it had actually had made almost no impression at all – berries were still intact and looking just as healthy as they did beforehand. The weather had also turned decidedly cooler, meaning that the air humidity remained quite low, thereby reducing the risk of rot or disease.
On the positive side (as I mentioned the other day), the fruit is now clean with all dust washed away, it remains in a healthy state, and doesn't appear to have absorbed any water. The ground was probably so dry that the water either just ran off, or was absorbed completely by the surface soil without really getting down as far as the roots. The other good news is that after a couple of unsettled days (cloud but almost no rain), the sun will return, and we should have ideal conditions to continue.
I called today 'XXX' day for a couple of reasons. One, because from a harvest point of view the day doesn't have a number, and secondly to see if our site would attract some new hits from different audiences…. Of course, I mean from the Vin Diesel fans!
By the way, my photo shows the first free run juice of 2016 from the first presses – unctuous and delicious (and that will be completely clean after a day or two of 'cold settling')
Recent Posts
Monthly Archives