Archive for May, 2017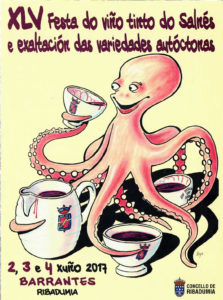 This coming weekend we have a local wine fair in the village of Barrantes (the village where Castro Martin is actually located). Oddly, despite this being in the very heart of Albariño country, the festival actually celebrates the tinto wines of Salnés. The vast majority of red wines from Rias Baixas are made with the grapes of Caiño tinto, Espadeiro, Loureira tinta and even Mencia (although Mencia is perhaps more widely known from our neighbouring denominations of Bierzo, Ribera Sacra and Valdeorras).
There are other red grape varieties, which when vinified, make a low alcohol, but very intensely coloured, tooth-staining wine, perhaps the most famous of which is known as Tinto de Barrantes. The problem is, that the grape varieties used to make many of these local wines are not officially permitted, and so the wines can only be made for personal consumption (well, that's the official line anyway). My guess is that this is why the festival is called the Tinto do Salnés Festival, and not the Tinto Barrantes Festival….
This year's publicity poster does however, include a jolly pink pulpo (probably stained by the local tinto), and also shows the traditional white ceramic wine cups containing a liquid that looks suspiciously like our very own Barrantes red wine!
Recent Posts
Monthly Archives